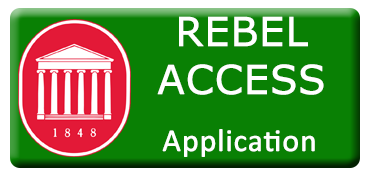 Apply for Disability Services
Description of Process and Why
Student Disability Services uses a holistic approach when working with students who request accommodations. We believe each student deserves to be valued based on his or her unique experiences, history, and needs. Because of this, our process allows us to get to know each student and to customize approved assistance to each student's individual needs.
Application Process
STEP 1.
Become admitted to the University.
For information regarding the admission process contact the Office of Admissions.
STEP 2.
Complete the

Rebel Access Application

using the button provided above.
STEP 3.
Contact SDS to schedule an

initial interview

. The interview is our opportunity to get to know you better and get your input into how you are uniquely impacted by your diagnosed disorder. This information is essential as we review your request for accommodations. The interview can take place in-person or via a telephone call. The schedule your appointment, call us at 662-915-7128.
STEP 4.
Submit comprehensive external documentation that supports your current need for accommodations. Click the following link for our documentation guidelines
.
PLEASE NOTE: Some accommodations require more specialized documentation. Please review the general documentation guidelines as well as documentation guidelines that may be specific to a particular accommodation/modification request.

STEP 5.
When steps 1 – 4 are completed, SDS will complete a holistic review of all of the information you provided. We will then contact you regarding one of the following:
Notification that we have approved your request for accommodations and information about how to schedule a final approval meeting with us.
Notification that we need additional information from you before we can complete a review of your request for accommodations.
STEP 6. If it is determined you have a disability-related need for accommodations, you will schedule an approval meeting to finish the process and receive accommodations. During this meeting we will determine accommodations you may qualify to receive, review general office policies and procedures, discuss your rights and responsibilities as a student with a disability at the University of Mississippi, and talk about the ways which SDS will support you during your time at Ole Miss and will help you develop positive self-advocacy skills you will bring with you when you graduate.

STEP 7. Each semester, you will request approved accommodation via your Rebel Access Portal and will meet with your instructors to discuss your needs in each class.
**Please make sure you frequently check your Ole Miss Email!
This is how we will communicate with you as we go through this process.
Rebel Access Application and Documentation Guidelines
To apply for disability services click the following link to fill out the:
Rebel Access Application
.
NOTE:
Click the following link to view a PDF version of:
Documentation Guidelines
.
(To download an accessible version of this document, right click on the link and choose "Save Link As…".)