Accessible Format and Assistive Technology
Accessible Format
To download a tutorial on Accessible Word Documents, click this link:
or

---
To download a tutorial on Accessible PDF Documents, click this link:
or

---
To download a tutorial on Accessible PowerPoint Presentations, click this link:
Types of Accessible Format Available:
Accessible PDF
Accessible Word Doc
MP3 Audio
Braille
Magnification
Tactile
Text Conversion Process:
Once approved for accessible format, if it is your first semester, you need to meet with the Adaptive Technology Specialist to talk about the accessible format process. Any following semesters, this process can be performed completely by email.
A copy of the textbook receipt/invoice is required.
The Accessible Format Request Form must be filled completely using Adobe Reader. This form includes the copyright agreement which must be digitally signed using

ONLY

Adobe Reader.
Other Important Accessible Format Notes:
After receiving notification for accessible format, the Adaptive Technology Specialist will send out an email to the student with the Accessible Format Request Form attached. Furthermore, the email will include detailed instructions on how to fill out the attached form as well as other pertinent information for listening to the accessible format on a computer.
Accessible format cannot be provided unless a copy of the textbook receipt/invoice and the completed and digitally signed Accessible Format Request Form are both received by the Adaptive Technology Specialist. This is based on publisher copyright laws.
Accessible format is processed on a first-come, first-served basis.
Accessible format is considered a free service.
Accessible format does not have to be returned at the end of the semester unless an exception is specifically made by the Adaptive Technology Specialist.
Assistive Technology
Student Disability Services has a total of 7 accessible computer stations available for students with disabilities. 5 of those computer stations are in the lab and 2 are private room computers. Besides having the typical software of Microsoft Office and Adobe Reader, they have various accessible software installed. To know which computer has what software installed, there is an orange sheet taped to the wall over the computer which identifies the type of accessible software installed.
SDS Accessible Computer Stations:
JAWS Screen Reader
Kurzweil 1000 Literacy Software for Blind
Zoomtext Magnifier/Reader
Read and Write Gold Literacy Software
Dragon Naturally Speaking Dictation Software
Dolphin Easy Reader DAISY Player
Sorenson nTouch Videophone
SDS Accessible Hardware Available:
Wheelchair Accessible Tables
CCTV Desktop Magnifiers
Portable Magnifiers
DAISY Audio Players
FM Systems
Microphones for Real-Time Captioning
Braille Embosser
Livescribe Echo Smartpens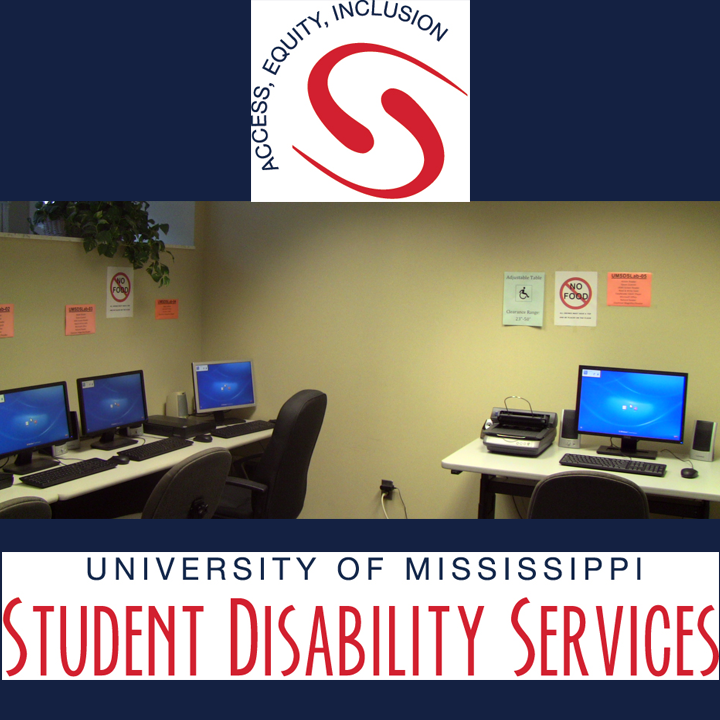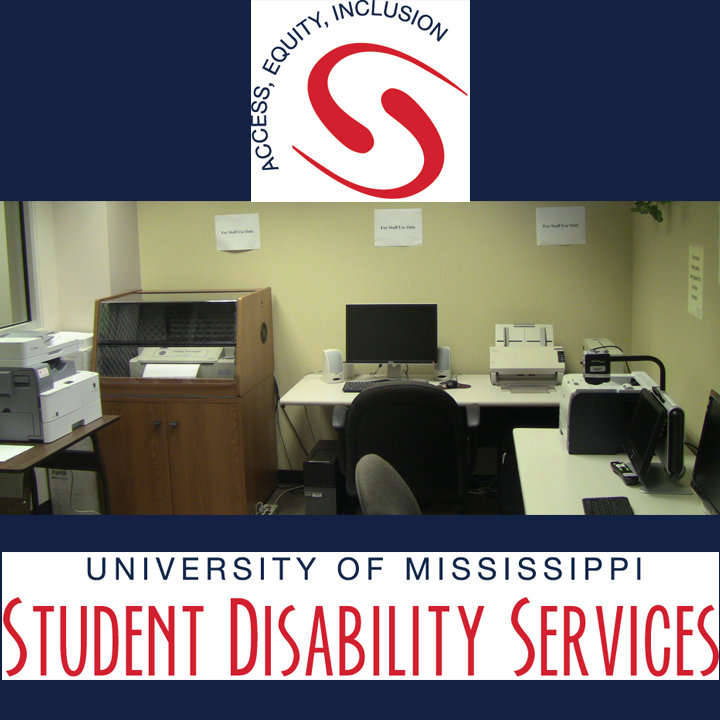 Assistive Technology Hardware Checkout:
Usually all assistive technology hardware is checked out for the entire semester and must be returned by the last day of finals, unless an exception is specifically made by the Assistive Technology Specialist. There is a list of what is in the container for the device checked out for the semester. If anything is missing or damaged from the container upon return of the assistive technology device, the student is responsible for the cost of replacement of any missing or damaged items unless an exception is made by the Adaptive Technology Specialist. If the missing or damaged item is not paid for, a hold can be placed on the student account which will prevent you from registering for future classes and from getting a transcript, until the missing item is paid in full.
SDS Other Hardware Available:
Flat-bed Scanners
Printers
Other Locations on Campus Where Accessible Computer Stations Exist: