Announcements and Current News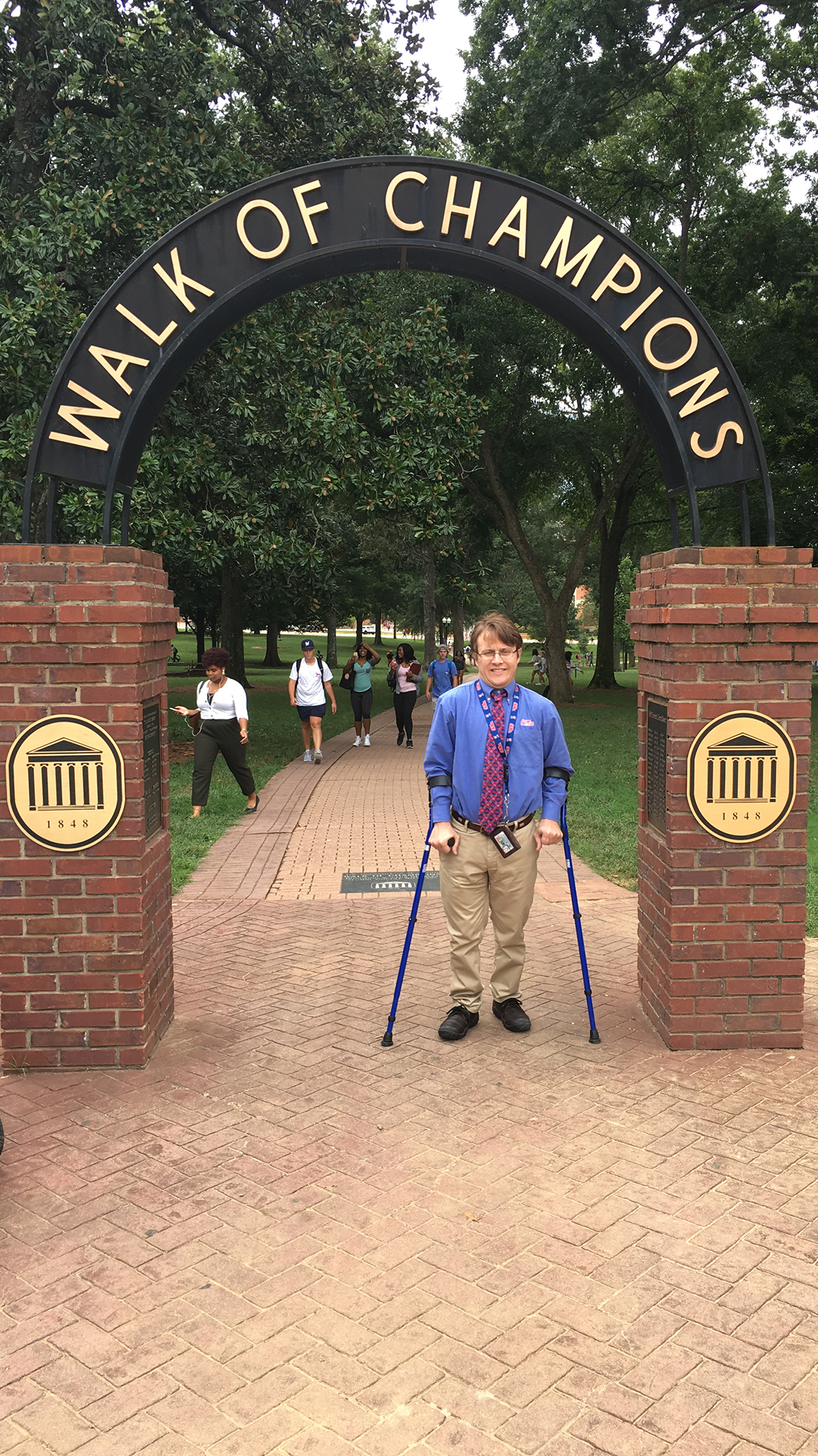 UM Student's Drive Helps Him Accomplish Goals
September 20, 2016 By Christina Steube of University of Mississippi News
University of Mississippi senior P.J. Sheffield has not missed an Ole Miss football or baseball game in seven years. He's been to every home basketball game for five years, and every fall Friday for the last 12 years, he has been on the sidelines at Saltillo High School's football games.
A general studies major who has minors in history, psychology and journalism, Sheffield works out every day during the summer and goes for daily walks in the Grove during the school year, while sometimes taking a course load totaling 21 hours.
Sheffield was born with cerebral palsy, which has been more of a minor inconvenience for him than a definitive identification of who he is as a person.
"I don't see it as a challenge," he said. "It's just me."
Cerebral palsy is a neurological disorder that affects muscle movement and posture. When Sheffield was 5, he underwent surgery on his hamstrings to allow him more movement and the ability to sit up. Since then, he's been unstoppable.
"I visit wellness centers and do upper body exercises all the time," he said. "Anything that any other person can do, I can do; it just may be in a different way that takes me a little longer. It's amazing how you can train your body to be super-strong from the waist up."
Sheffield describes himself as a self-driven person and deciding what to do after high school was simple.
"It was either go to college or nothing," he said.
He earned his associate's degree in general studies in 2013 from Itawamba Community College and knew Ole Miss would be his next stop.
"It was home. I didn't want to go anywhere else."
During his time in Oxford, Student Disability Services has assisted him in any way he's needed: by contacting notetakers, allowing him to record lectures and allowing him extra time on tests, if needed, although he moves through much of his coursework just like any other student.
"I have had no problems with inclusion on the Ole Miss campus," he said. "SDS has made my college career as accessible as possible and have let me know they are there to help if I need it."
Sheffield said the "Allies for Inclusion: Ability Exhibit" hosted by SDS this week at the Inn at Ole Miss is a great way for faculty and other students to become allies for students with disabilities.
"I think when they see the drive, it makes them want to be even more inclusive," he said. "I think they see it as motivation for themselves."
His condition hasn't changed since he was a child, and he tries to stay as active as possible to keep the continued use of his muscles.
And, upon the completion of his degree in May, Sheffield will have achieved all his goals at Ole Miss. After college, he hopes to pursue a career in sports by either coaching his former high school football team or becoming a sports journalist.
Saltillo High School Tiger head football coach Pat Byrd said Sheffield always finds ways to connect to his team.
"He's very positive and he's got the brightest outlook of anyone I've ever met," Byrd said. "If he puts his mind to it, there's not anything he can't do."
Sheffield's love of the game will create a career path for him, Byrd said.
"If I push myself, there's no stopping me," Sheffield said. "If you want me to do something, put it in front of me and I'll figure out a way."
---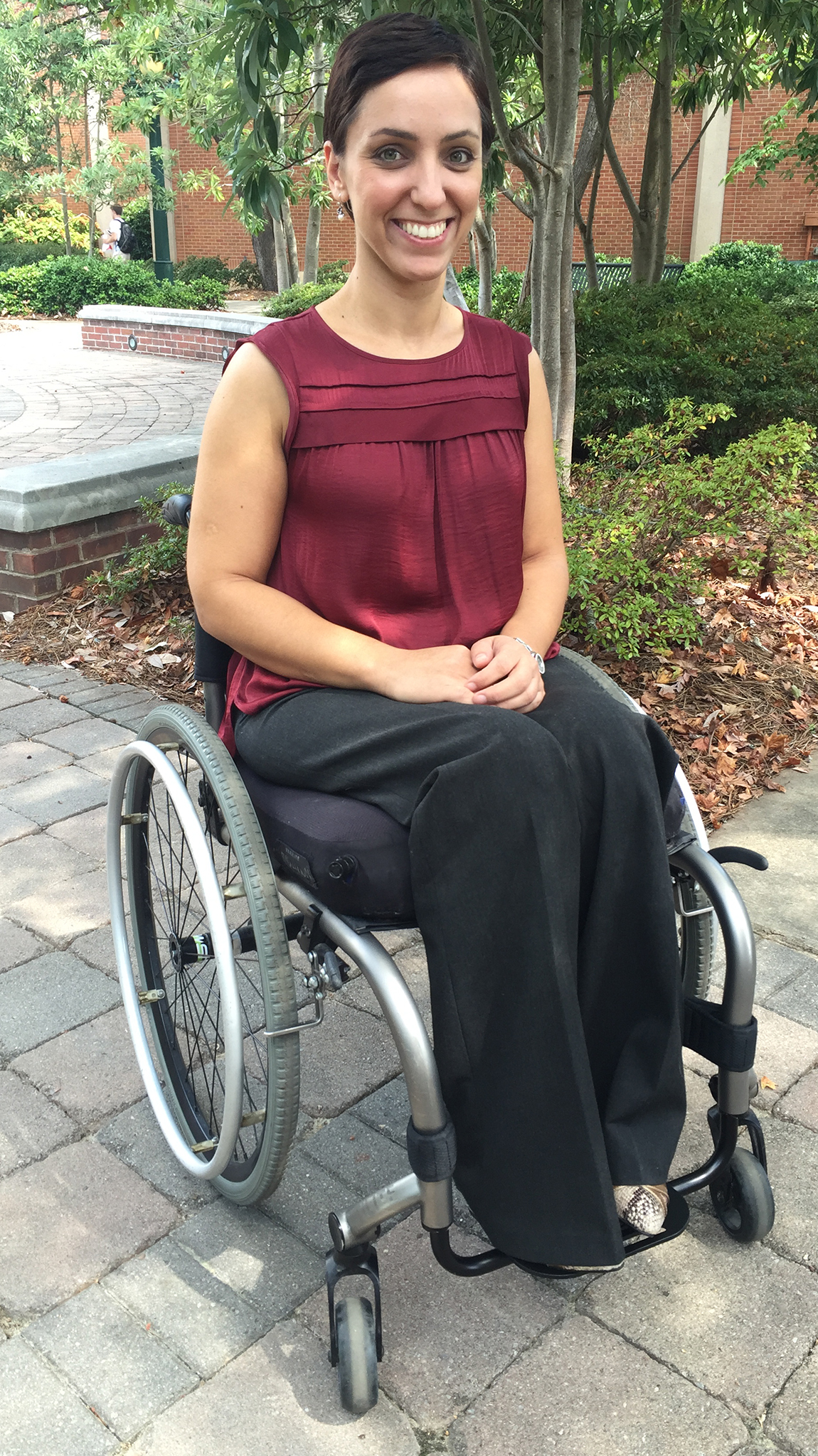 Scientist Finds New Calling at Ole Miss
September 19, 2016 By Christina Steube of University of Mississippi News
University of Mississippi graduate student Yelda Serinagaoglu grew up in Ankara, Turkey, with a deep love for science. She was an active student when her life suddenly and completely changed.
When Serinagaoglu was 15 years old, she was in a car accident that broke her back, leaving her paralyzed from the waist down. Her major injuries caused her to take a year off from school, postponing her education.
"I had to learn everything all over again and when you're out of high school for a year, everything is a little foggy," she said.
But there still was no question that she would attend college. In 2001, she earned a bachelor's degree in molecular biology and genetics from Middle East Technical University in Ankara.
"I loved science and I'm inquisitive by nature," she said. "I want to answer questions and dig deep into things. Genetics was always one of my favorite subjects."
So naturally, her curiosity motivated her to pursue further education. After completing her bachelor's work in Turkey, Serinagaoglu moved to the United States to earn her doctorate from Ohio State University in 2007.
She then relocated to Memphis to work as a post-doctoral research scientist at St. Jude Children's Research Hospital.
Although she loved her work as a scientist, she also loved interacting with people.
"I realized one of the best experiences I had was interacting with graduate students," she said. "I just wanted to be in a university environment."
This led her to Ole Miss to pursue a master's degree in higher education and student personnel.
"I drove to the Ole Miss campus one day and fell in love," she said. "I didn't even apply anywhere else."
"She has already made an impact on our campus and in students' lives," said Robin Yekatis, a UM disability specialist. "Her desire to connect with people is what makes her perfectly suited to be a change agent and influence positive growth and understanding on our campus."
Through her entire educational experience, accessibility hasn't been much of an issue. Although rules weren't previously in place in Turkey as they are in the United States, accessibility was created for Serinagaoglu because people genuinely cared for her. Elevators and ramps were constructed in her departments at her university to allow her to easily get around.
At Ohio State, accessibility was very structured with ADA accessible residence halls and shuttles to classes. At Ole Miss, Student Disability Services has made campus completely accessible for her as well.
However, since her accident, she feels some people act differently around her, which why the "Allies for Inclusion: Ability Exhibit" is so important.
"I sometimes get a feeling that people don't want to make eye contact with me, which I don't understand," she said. "There's no special way to act around me, but I notice it's awkward for them."
She said the education provided by the Ability Exhibit will allow the campus community to understand how to become allies for those with disabilities.
"Knowledge is power and when you know about someone, you're relaxed around them. That's why we need this type of program – to get people to know each other."
---