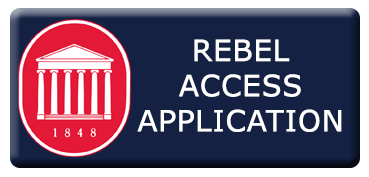 Accommodation Information
Approval Process
STEP 1 – Students must be admitted to The University of Mississippi before the approval process can begin. For information about admissions, please click the following link to contact the Admissions Office.
STEP 2 – Students must complete the Rebel Access Application. This application is completed to allow the student to self-disclose a disorder or impairment and request accommodations. We cannot review any documentation submitted without having a completed and signed Rebel Access Application on file. Submission of an Rebel Access Application does not guarantee a determination of eligibility. Click the following link to fill out the Rebel Access Application.
STEP 3 – Students must submit documentation from a licensed healthcare professional which clearly states a diagnosis, details the student's CURRENT functioning, and supports any requests for accommodations. Documentation must also include recommendations for reasonable classroom accommodations. Please click the following link for detailed information regarding Documentation Guidelines.
STEP 4 – Students are asked to complete an initial interview after they have submitted both the completed intake application and the supporting documentation. This appointment can be in person or via telephone. Within ten working days of our receipt of the intake application, supporting documentation, and the completion of the initial interview, a letter/email will be sent from this office informing the student that they have been approved or that we need more information, or that they have been denied.
STEP 5 – Students who have been approved are required to continue the process by meeting with a disability specialist for an approval meeting at which time they will confirm the student's accommodations and complete the final paperwork.
Types of Verification
1. On-going – Students who receive an on-going verification have submitted complete documentation which supports their requests for accommodations. These students will not be required to submit additional documentation UNLESS they request an accommodation that has not already been approved and which is not supported by the documentation previously submitted.
2. Yearly Renewal – A yearly renewal verification is approved for those students who have a disorder or impairment, the impact of which may change over time. Students with psychiatric disorders and certain types of physical disorders, such as some chronic illnesses, may be verified on a yearly basis. These students will be required to submit updated documentation each year so that SDS can adjust verification status and accommodations if needed.
3. Temporary – Temporary verification status may be given to students who have submitted some documentation which may confirm a diagnosis but may not be complete enough to determine the need for accommodations. Examples of this include students who submit outdated documentation or partial documentation. These students are verified on a temporary, semester-long basis, allowing them time to gather the necessary documentation.
Accommodations
Accommodations are not only provided on a case-by-case basis, they are also provided on a class-by-class basis. An accommodation which is reasonable in one class may not be reasonable in another. No accommodation will be provided if it compromises or alters essential elements or evaluation standards of a course.
Accommodations and services are considered to be classroom supplements. They are not intended to replace regular classroom participation or attendance. Also, accommodations are not a guarantee of a certain grade or of success in a particular class; rather, they are for the purposes of providing equal access to an education for students with disabilities. Students with disabilities are expected to fulfill all academic and course requirements and evaluation standards, as expected of all students.
Accommodations are not provided retroactively. The Office of Student Disability Services is unable to provide accommodations for academic work completed before the student is verified as eligible for accommodations or before the student requests accommodations.
All verified students requesting accommodations must make an appointment to meet with the Program Assistant at the Office of Student Disability Services each semester in order to submit course schedules and receive Instructor Notification of Classroom Accommodation forms.
Students must request accommodations and services in a timely manner in order to allow adequate time for processing requests. It may take several weeks for service providers to be recruited and assigned. To receive services in a timely manner it is imperative that we receive the request as soon as possible. Students requesting accommodations must also notify their instructor(s) in a timely manner. Students must submit an Instructor Notification of Classroom Accommodation form to each instructor before direct classroom accommodations will be provided.
If a student believes he/she would benefit from an accommodation not previously approved, the student must meet with the Disability Specialist and must complete an Additional Accommodations form. The student may be asked to submit additional documentation which supports the new request.